Presentation content
Eternal Sunshine of the Spotless Internet
The Michel Gondry film "Eternal Sunshine of the Spotless Mind", a sci-fi Romantic Comedy tackling the unpredictable consequences of erasing all memories of a love affair, is quite a good primer on the potential side-effects of the "Right to be Forgotten" (RTBF) policies, where online search engines can be compelled to "forget" information that is deemed outdated. As the internet is increasing becoming the host of our collective memories, moves to delete specific parts of our digital histories are likely to have equally painful and unintended outcomes. Our colleagues at Open Knowledge are clear that these moves pose a threat to transparency and open data, setting up a Personal Data and Privacy Working Group to discuss the matter. Currently a hot issue in Hong Kong, with the Hong Kong Privacy Commissioner Allan Chiang Yam Wang recently expressing strong support for the controversial policy (including on his blog), yesterday ODHK decided to delve further into the issue by hearing some local perspectives on the matter. After a bit of a break, the ODHK meets were back with a jam packed bill including presentations on RTBF by Frankie Chu of InMedia and economic governance activist David Webb.

Hong Kong InMedia is a citizen journalism advocacy organisation, and Frankie Chu started proceedings pointing out that for countries with poor access to information legislation such as those in Asia, any moves to alter search engine results will disproportionally effect citizens ability to access to information freely. Lacking archiving ordinance also makes Hong Kong particularly vulnerable, something which the Hong Kong Archives Action group has highlighted. In-Media has covered the topic regularly, and have put together a fantastic animation that gives a great overview of the potential risks of RTBF legislation, particularly from a Hong Kong perspective. Writing an open letter, In-Media and the Hong Kong Civil Liberties Union are also collecting signatures to let the Hong Kong Privacy Commissioner know public opinion is against these moves.

David Webb gave a presentation based on a recent talk he gave at the Christmas AGM of the Hong Kong Library Association covering a lot of similar ground, but going into more detail the test cases that have brought us to where we are today. Highlighting that Hong Kong media organisations such as the HK Standard are already reducing their archives, the most chilling consequences would be the growing political leverage that search engines like google, or J. Edgar Hoover types in security services and governments would have by becoming gatekeepers of information. David's slides are available from his Webb-site here.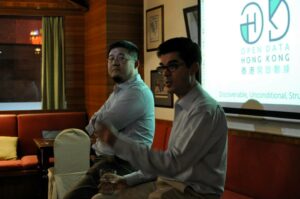 The Meet ended with a Q&A from Frankie and David, and updates and news from some of the ODHK working groups such as Guy Freeman and the OpenGov.HK access to information portal, and Scott Edmunds and the Open Science Working Group. Bastien plugged the ODHK and Code4HK "Hack the Hong Kong Budget" make on the 28th February, and the next ODHK meet will be on the 9th March, so watch this space for further news and updates. We look forward to seeing many of you there.