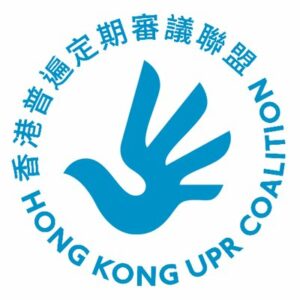 Hong Kong governance and transparency is under the spotlight in a landmark submission to the United Nations Human Rights Council (UNHRC) for the third Universal Periodic Review (UPR) on China. It has been presented to the UNHRC for a review that will take place in November. Open Data Hong Kong is among 45 civil society organisations contributing feedback to the Hong Kong UPR Coalition, representing the collaborative efforts of civil society to hold the Hong Kong SAR government accountable to its human rights commitments. Today a press conference (pictured) presented the submission and introduced the many signatories who were involved in the process.
The submission details 109 recommendations, and Open Data Hong Kong has specifically provided feedback on its data and archiving policy. The lack of an archives law or robust and binding access to information legislation is one of the many barriers that has held back open data in the Hong Kong SAR. The specific sections relating to Freedom of Information and Archives law are recommendations 26 and 27.


While a subcommittee of the government has been working on this issue for over half a decade, and mentions of the issue were included in Hong Kong Chief Executive Carrie Lam's election manifesto, we applaud efforts to keep the topic on the agenda and (unlike our archives) not gather further dust. More specific data related feedback on top of the points listed above that we would also promote is the need for all public/statutory bodies to included in the ordinance, as they such a huge and ever growing part of Hong Kong governance and are not subject to even the weak access to information code we have. As well as removal of the fuzzy and non-interoperable (non-creative commons) licensing restrictions of the data we currently have in Hong Kong.
Simon Henderson, the spokesperson for the Coalition and Senior Policy Advisor at Justice Centre Hong Kong says of why this coalition was put together: "The submission provides a roadmap of specific, measurable and achievable recommendations for Hong Kong to abide by its human rights commitments and restore its international standing. Our submission reflects the aspirations of the Hong Kong people who want to build a fairer and more equal society for all. Importantly, it also echoes Chief Executive Carrie Lam's vision of making Hong Kong a more inclusive city."
Engagement with civil society is crucial to the UPR process. Unfortunately, quite often, civil society is on the sidelines when it comes to major legal and policy developments, in contrast to the Chief Executive's pledge to "connect". "Having meaningful consultations, meeting regularly and promptly responding to correspondence will go a long way in engaging civil society. The UPR is a test for the government to show that it is truly committed to protecting Hong Kong's core values. We look forward to working with the government to implement these recommendations," he concluded.
This makes Open Data an important part of this submission, as it should help provide more scrutiny and connectedness, facilitating meaningful consultation and data driven decision making in Hong Kong, and is great to see these issues taken to the UN. We've previously hosted meetups covering open data for political advocacy and legislation, and this takes discussion to a global level. The upcoming UPR on China, including Hong Kong and Macau, will take place in Geneva in early November 2018. The UPR Working Group, which consists of the 47 member states of the UNHRC, will conduct the review.
The submission is available online at: www.justicecentre.org.hk/policy-advocacy/universal-periodic-review/